Introduction:
If you have an old book lying around and you no longer need it, then why not make it into a beautiful decoration! This creative idea was taken from a library and would be nice to share on the website. If you want to try this activity out, it's best to use a thick book with a soft spine. You may also use books with fewer pages, but it may not just look like the sample project and would look more like a semicircle-shaped décor.
This is a great activity as it teaches kids the value of recycling. If you don't mind your old books being turned into a decoration then this is a great guide for you.
Books are important because of their content but if no one is going to read them then finding another use for them is awesome. The tool you need is a ruler. Have fun!
Swipe up to Scroll
Tools
Supplies
An old book you no longer need
Grab an old book to decorate a bookcase
There's nothing to it for this first step except finding an old book that nobody uses anymore. Ask yourself first though if it's better to give it to someone who might enjoy reading it. But if you think that recycling is the way to go then continue reading this guide!
Learn how to fold an old book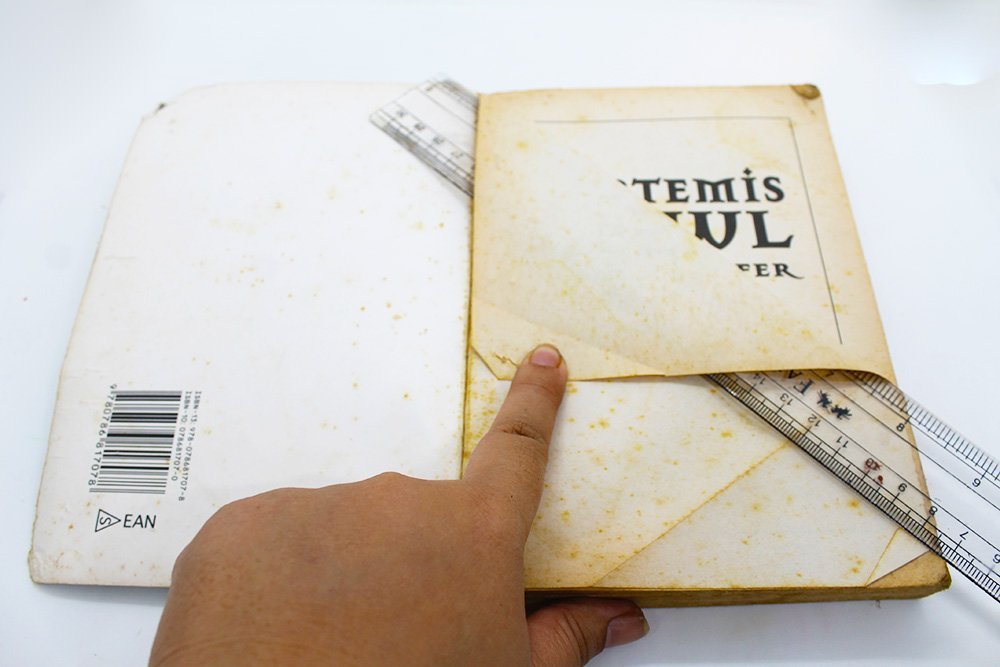 You will now make your first fold. Diagonally fold a few pages like shown in the image above. Get a ruler to help you with this step.
Then do the same for the next few pages. Fold it diagonally again to the spine. Also, if you start to fold the book in the middle the same number of times on both sides, you can stop after halfway and use the book as a book holder for your bookshelf.
Fold all pages to shape the old book
Fold one group of pages then move to the next.
Continue to diagonally fold all the remaining pages. For uniformity, if you decide to go with ten pages per fold then you should be consistent with ten pages per fold. Another option is that you can fold over all the pages and use the book as a cool decoration for your home.
That's all there is to it - congratulations! We hope you had fun turning your old book into a decoration for your bookshelf or a bookstand. Leave a comment below, and please check out some other cool crafts for kids.
Extra Tips
You will likely need two or more books to decorate your bookshelf if you have a spacious bookshelf.
One cool thing you could do is to paint the pages of the book.
Make sure to properly fold each flap. Apply enough pressure, and you could even use glue or tape to secure each fold.
Click to rate this article
Click to rate this article