Introduction:
Make awesome decor using dollar bills! In this tutorial, we are going to make a money ornament. What's great about this origami ornament is that you may hang it wherever you want once finished. If you don't have dollar bills with you at the moment or don't want to use money, then that's fine. You may use any piece of paper with the same proportions as a dollar bill. Now, let's start folding!
Difficulty Level: Intermediate
The first step is to fold the dollar bill  downwards in half.
Fold it lengthwise in half. Crease the dollar bill well and unfold.
Diagonally fold along the dashed lines as illustrated above.
Crease the dollar bill well and then unfold.
Make an inside reverse fold by slightly lifting the top layer.
Push the right edge of the dollar bill inwards.
Keep pushing the tip (arrow) inwards.
In progress…
The dollar bill origami should now look like this. Make another inside reverse fold at the left side.
Like flipping a page from a book, flip the left side to the right side and then do the same at the back.
Diagonally fold the bottom left corner upwards. Make sure to fold the top layer ONLY.
Repeat the previous step on the bottom right corner.
Flip the dollar bill over.
Repeat step 9 on this side of the dollar bill.
Diagonally fold upwards the bottom right side.
Repeat step 7, flip the left side to the right side and then do the same at the back.
As illustrated above, take note of the "pocket' and the tabs. Make another piece of this dollar bill model.
To make the ornament, insert one of the model piece in between the pocket and tabs of the other model.
Keep tucking it inside one another.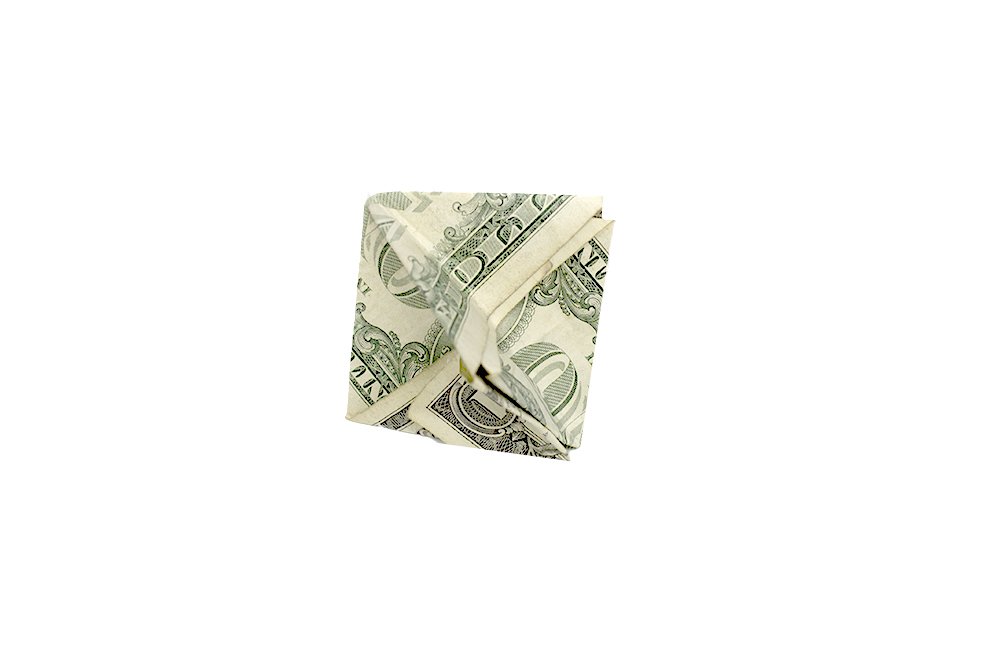 Your Money Ornament is done!
Click to rate this article