Introduction:
One of the easiest origami that you can make from a dollar bill is this paper heart. There are many ways to shape a heart from a dollar, and this is by far the easiest method to make one. What's great about this origami activity is that it's quick and super simple to make.
You can also make the heart origami with paper that has the same ratio and proportion of side lengths as the dollar bill.
It is an ideal papercraft for beginners, once finished, you can turn it into decor or a  lovely gift to someone special. Have fun reading the guide, and make sure to teach a friend or two.
Fold the Bill's Top and Bottom Edges
Lay a crisp dollar bill flat in front of you on a table.
The next step is to fold 1/3 of the bottom part of the dollar bill upward. Do the same for the upper edge. Great, now it's time for the next set of steps.
Fold the Bill Into a Pentagon
Next, fold the dollar bill in half as illustrated above.
Crease the dollar bill well and unfold.
Diagonally fold the left bottom corners upward to the center.
Then do the same for the right edge. Now it is time for the last set of steps. Good job!
Fold the Bill Into a Heart
Flip the dollar bill to the other side.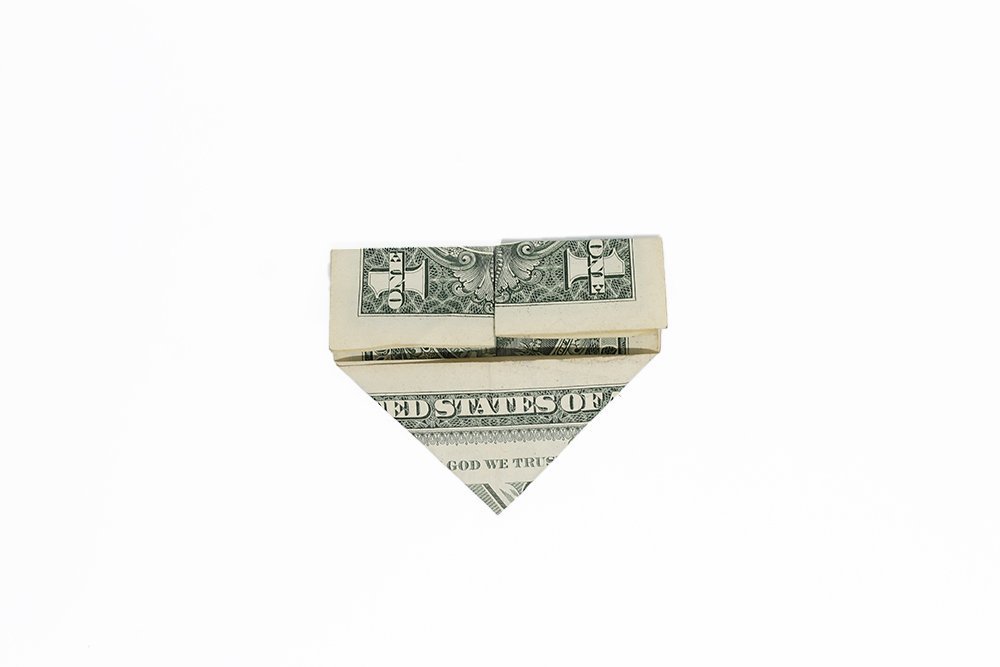 Fold the top edge towards the bottom.
Fold inward the four corners to shape the origami heart! Start with the left part.
And continue on with the right part. Fold the two corners inward.
Once it shaped like a heart, flip the dollar bill over. Congratulations on making the origami heart.
Extra Tips
You should wash the dollar bill first.
Have fun. And share this awesome fold to other people.
You can iron the bill to remove unwanted creasemarks.
Click to rate this article
Click to rate this article