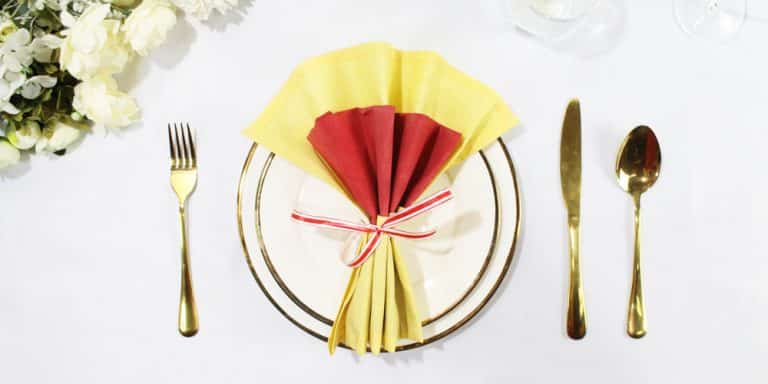 Introduction:
Learn how to make a sophisticated napkin double fan inspired by props used in Geisha performances! Did you know that fans originated from Japan? It is not just known to relieve people from heat but also a beauty symbol for people to show off.
This fan napkin fold with ring or ribbon is great for festive events such as weddings and birthdays because of its elegant design. Matches with Asian theme parties as well!  Now let's start folding!
Make a double napkin fan by stacking two napkins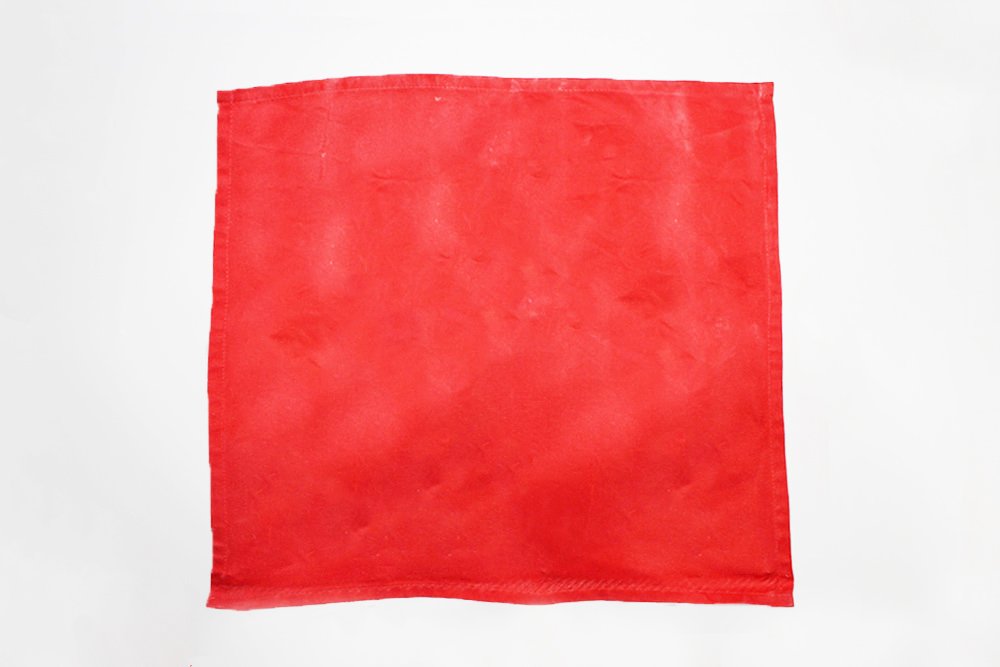 You need two napkins to make this double fan. Your first step is to lay a square napkin in front of you on a flat surface.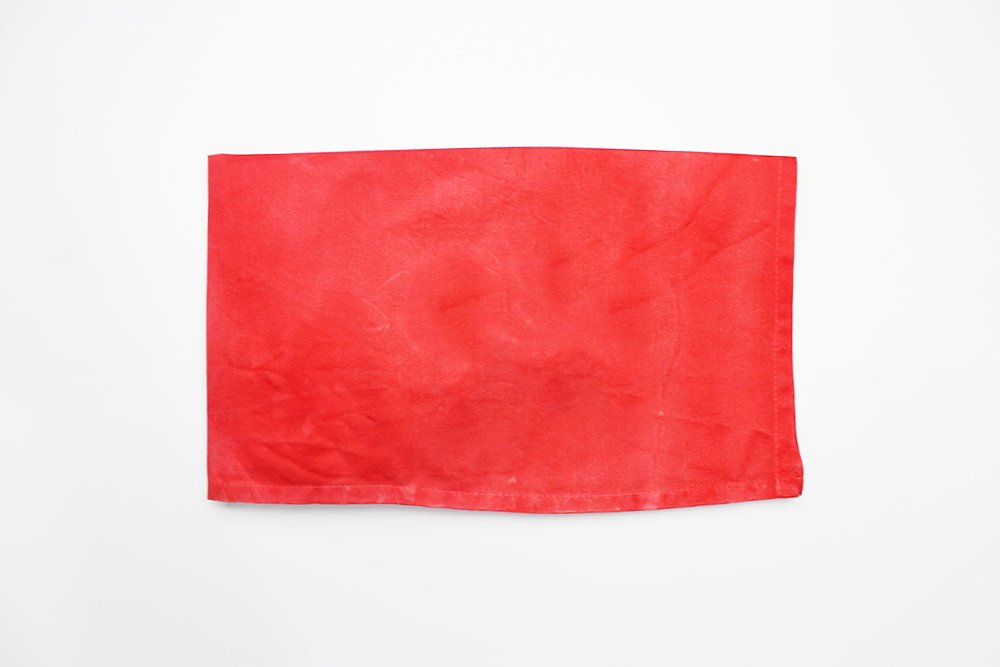 Then, what you are going to do is to fold the napkin in half. Fold it crosswise by bringing the top edge to the bottom edge.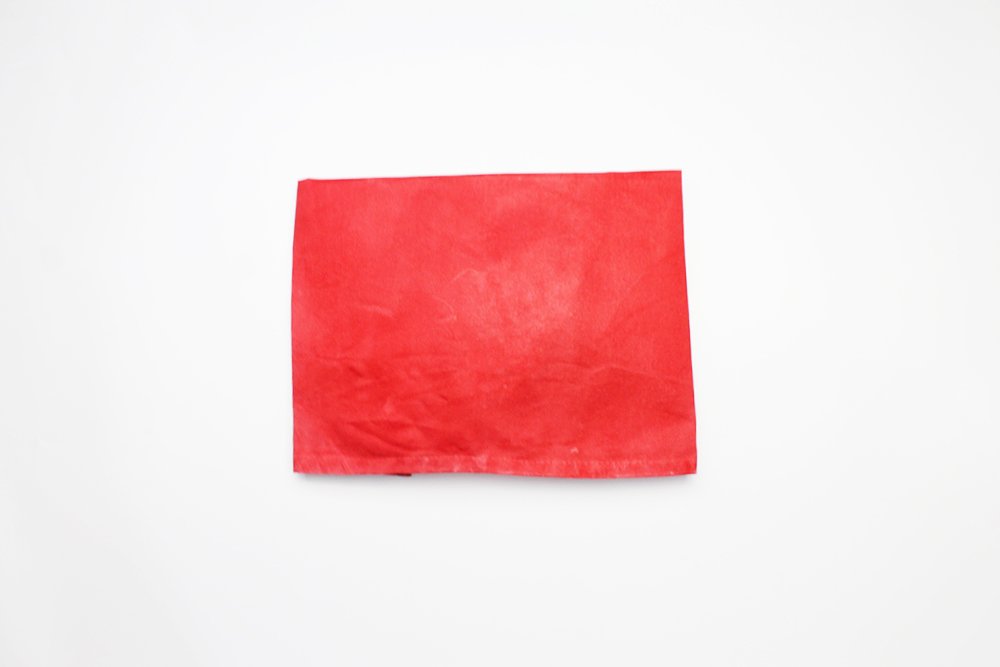 Make the napkin smaller by folding the sides to the back.
Stack the folded napkin on top of another square napkin. Make sure that it is positioned in the center near the top area. See the image above for guidance.
Great job! Now it is time to move to the next part of the folding guide.
Make an accordion fold to make the fan napkin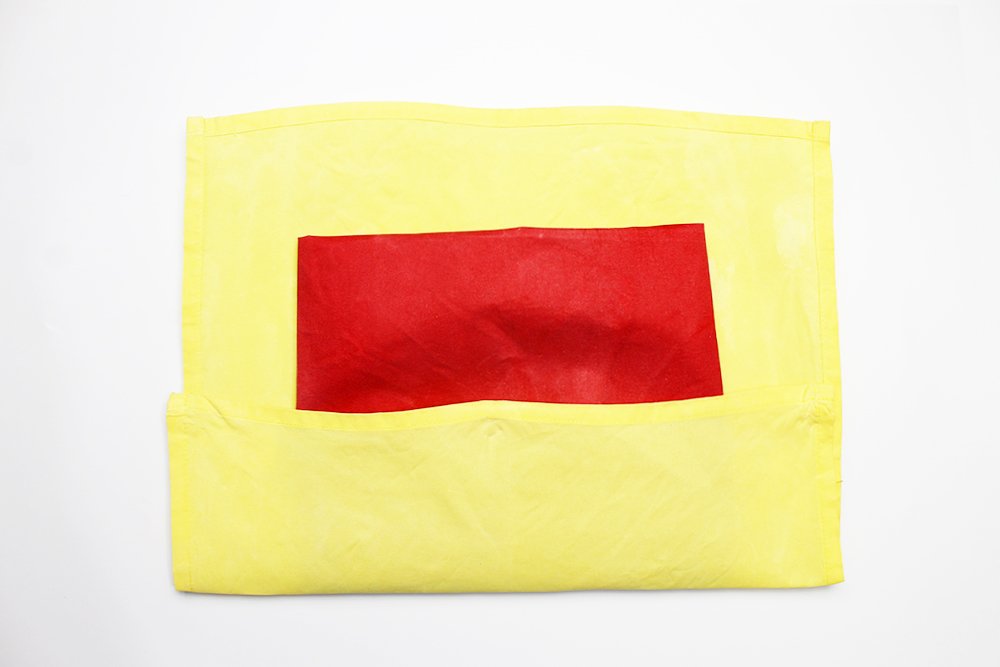 Fold the lower edge of the back napkin (yellow) towards the middle of the top (red) napkin.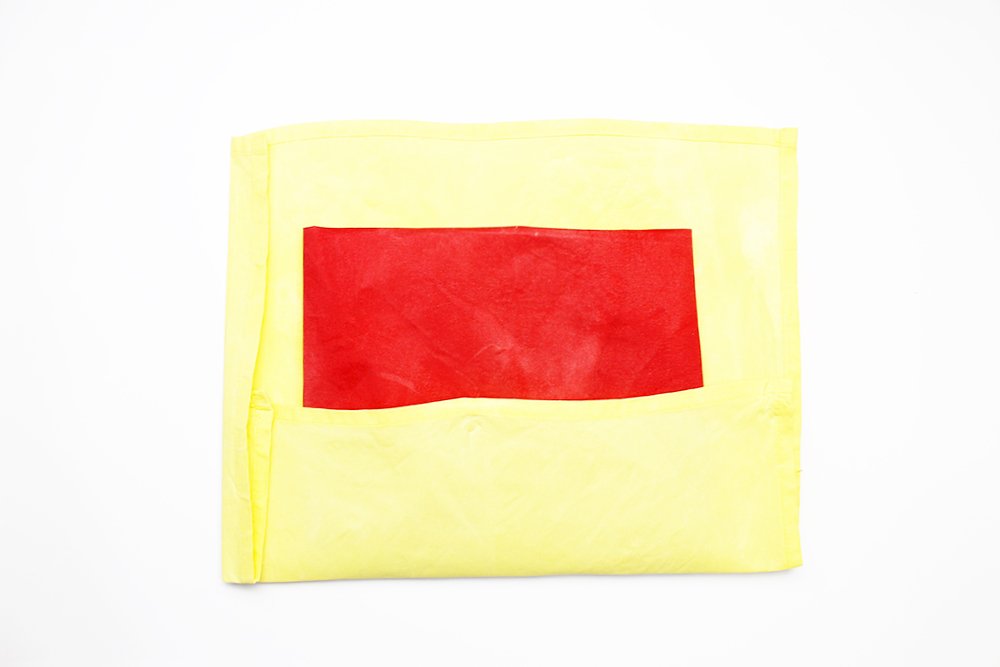 Then fold the left edge of the yellow napkin towards the right. Fold it around an inch to the right.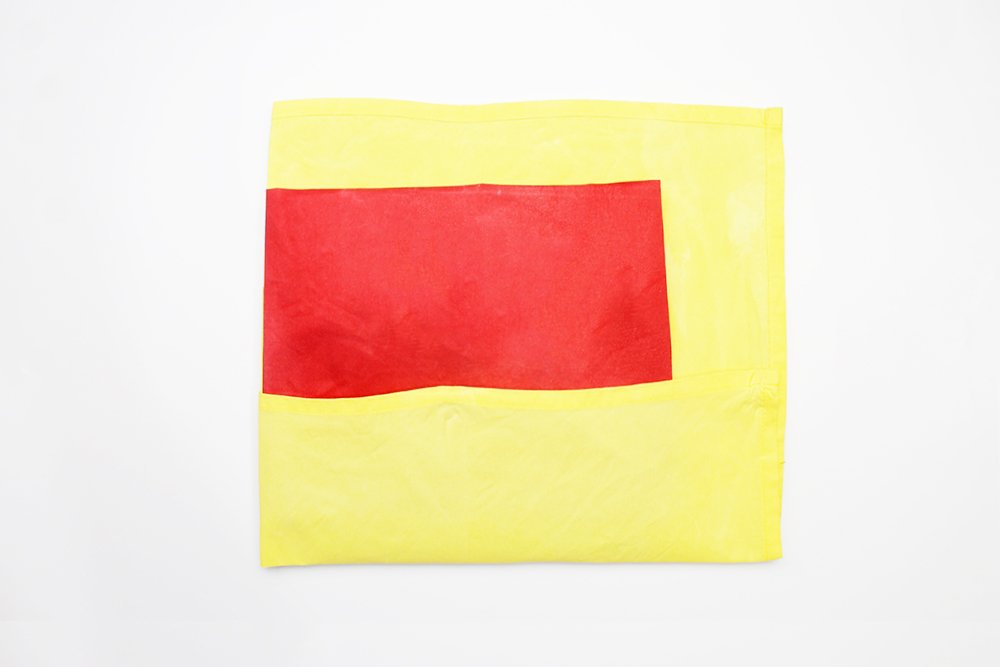 Once folded, fold the left edge again. This time at the back.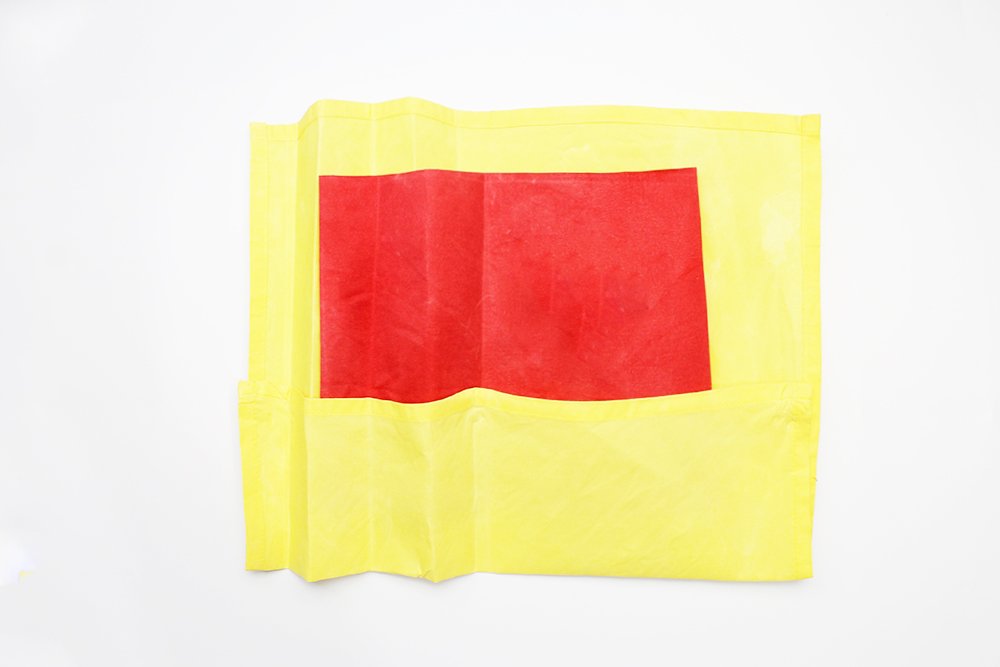 Keep folding it to the front and then to the back like an accordion. The folds should have the same lengths as one another.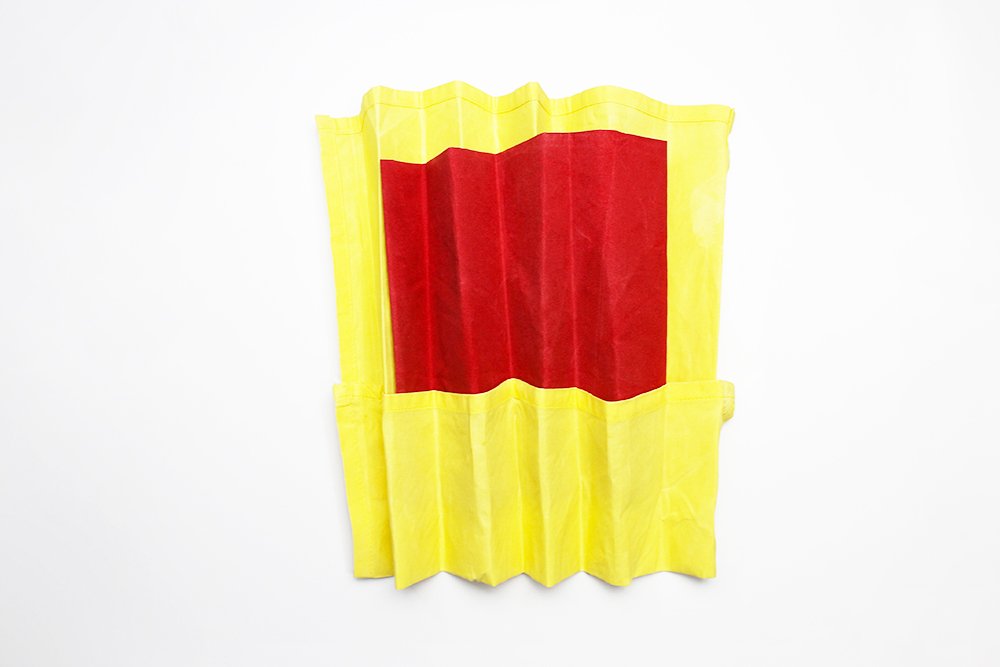 Continue to fold the napkin like an accordion until you reach the right edge.
Shape the napkin into a fan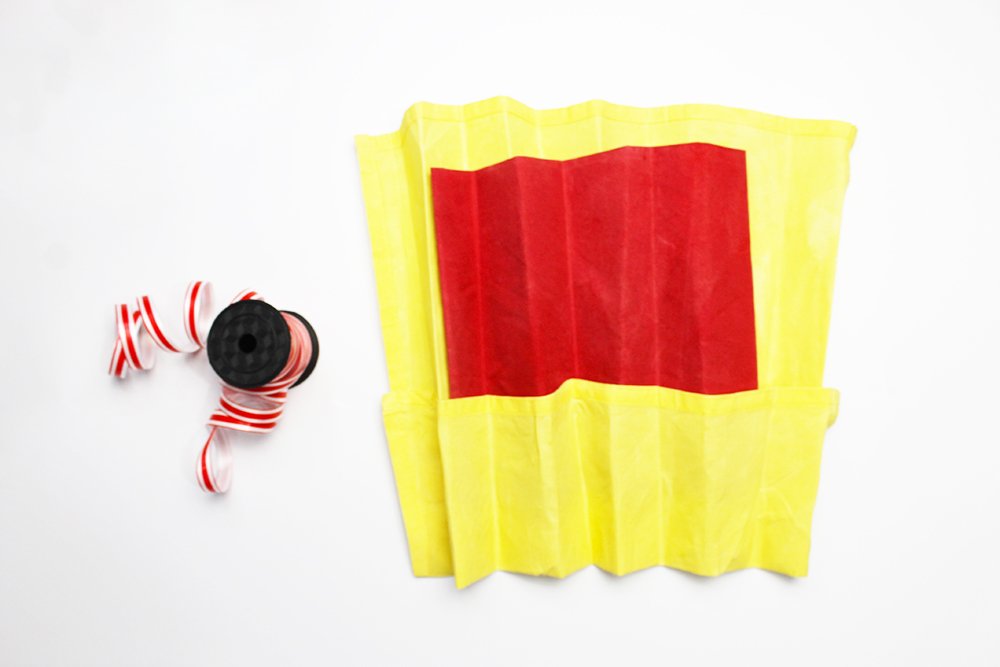 Your next step is to get a decorative ribbon or a ring napkin to tie the fan. Here we'll use a ribbon to tie the napkin.
Place a length of ribbon beneath the napkin.
Then, decide how long want your ribbon to be then cut it. Lastly, tie a knot to compress the middle part of the napkin.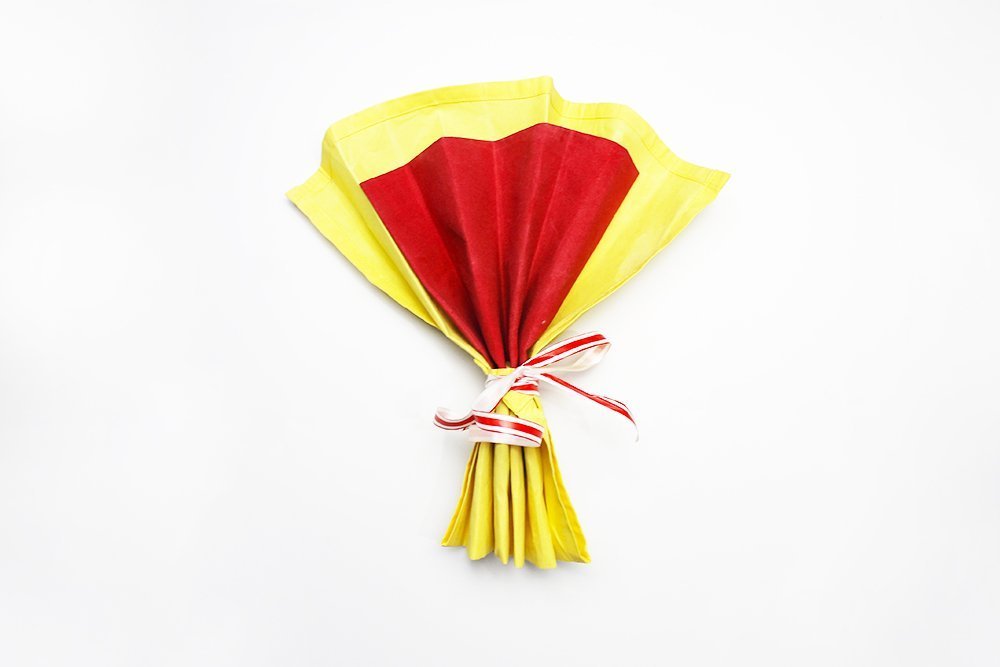 Flare it out a bit and the geisha inspired fan is done!
Extra Tips
If you don't' want to use it as a table napkin, you can use any regular paper and turn it into a Japanese origami fan.
Napkin not folding into an accordion? Use a thick piece of cloth napkin or tissue paper. If you don't have those, starch the napkin before folding!
Click to rate this article
Click to rate this article