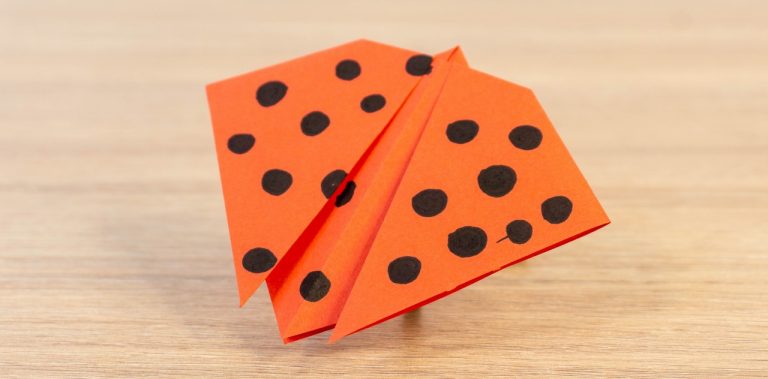 Introduction:
This easy-to-make origami ladybug is a great paper activity for kids and beginners. You only need to use the basic folds and use a piece of origami paper to make this.  Once finished, you may draw the ladybug's iconic spots to make it look more cute and realistic.
Difficulty Level: Easy
To make an origami ladybug, use a square piece of origami paper. It is better to use a paper that has color on one side. That way, the instructions will be a lot more easier to understand. Face the colored side downwards and then, fold it along the dashed lines.
The second step is to fold the left corner to the right corner by folding it lengthwise in half. Crease the paper well and unfold.
Fold the left and right corners of the origami paper downwards along the dashed lines.
Turn the paper top the other side.
Bring the top corners downwards. Follow along the dashed line as shown.
Bring the tip of the front flap upwards. Follow along the dashed lines.
You're almost done! Turn the origami ladybug to the other side.
Your origami ladybug is done! You may draw some spots on its wings to make it look nicer.
Click to rate this article