Introduction:
Teach your kids how to assemble with this paper plate unicorn tutorial!  This craft tutorial includes a printable cut-and-paste sheet in which they can practice their scissors skills. Once finished, they can play with these lovely unicorns or use them as a decoration in the house.
Swipe up to Scroll
Tools
Popsicles Sticks
Stapler
Scissors
Paintbrush
Supplies
2 Paper Plates
Glue
Poster Paint
Printables (Download below for printable)
Cut out the printable
Download then print the unicorn printable by clicking the yellow download button above. After printing it, cut along the outer outline of each printable element with a pair of scissors.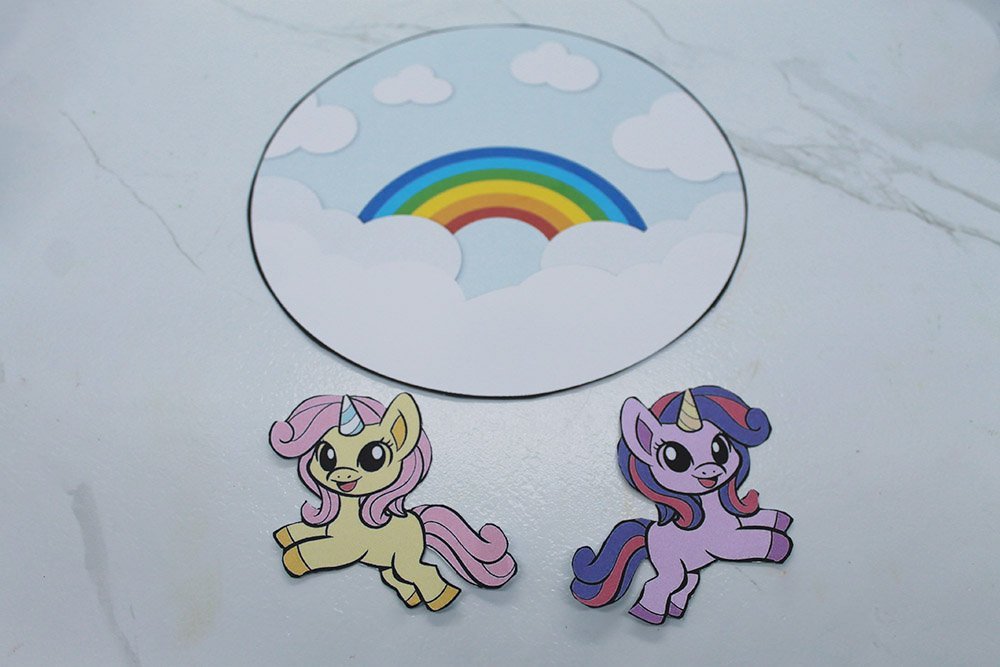 Once cut, it should look like this! You should have two unicorns and a rainbow sky background.
Stick the unicorns in the sticks
Get two popsicle sticks and stick each unicorn on one end of each stick.
You now have two unicorn puppets.
Build the frame of the paper plate unicorn craft
To build the frame, get a paper plate. Fold the paper plate in half.
Cut a half-moon shape on the center as illustrated above.
Unfold the paper plate, and it should now look like this! The outer part will be the frame.
Optional: You may color the frame with poster paint. Here we used purple.
Once painted, set it aside to dry.
Assemble the bottom base of the paper plate
Get a paper plate and paste the circular sky cutout on the center of it.
Cut along the dashed line as illustrated above.
The bottom base of the paper plate is done!
Assemble the frame of the paper plate craft
Get the frame and the paper plate base. Place the frame on top, as shown in the picture above.
To secure the frame to the other paper plate, staple along the edges of the top part ONLY.
Once assembled, your paper plate craft should look like this!
Insert the unicorn puppets
Insert the unicorn puppets inside at the open flap on the bottom part of the paper plate.
Your paper plate unicorn is done! Let the little ponies interact by moving the puppet! We hope you have a great time playing with this!
Extra Tips
The paper plate unicorn kind of looks plain. If you want to personalize it and make it prettier, we suggest that you decorate the frame with your art materials.
If your kids are not into puppets, then they can use this craft as a decoration. Instead of sticking unicorns into some popsicles, stick them directly to the aquarium cut out. Once finished, put some adhesive at the back and attach it to the wall. You may even punch a hole on the top middle part to hang it with a piece of string.
When using sharp objects like scissors and staplers, make sure you use them with adult supervision.
Click to rate this article
Click to rate this article