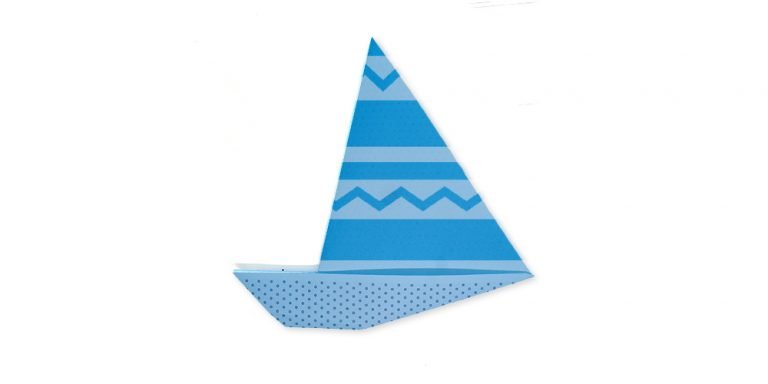 Introduction:
This super simple origami yacht only has four steps. If you want to make a quick paper boat, then this origami is right for you! In this step by step instruction, you may want to use an origami paper that has color on one side. That way, it is easier to follow the instruction below. Once completed, your paper boat would make an awesome decoration anywhere you like. Decorate it  after by drawing some patterns to make it look nicer.  You may also paste it on a card to give it to someone as a special gift.
Make the triangular base of the paper boat
To make this origami yacht, start with a square piece of origami paper. Lay it on a flat surface and then, fold crosswise in half.
For the next step, you need to make an outside reverse fold. Make an outside reverse fold by creasing along the dotted lines and then prying open the layers. After that, flip the layers inside out.
Shape the origami into a yacht
The origami paper should now look like this, now rotate it 90 degrees counterclockwise.
Fold the bottom corner of the origami paper to the back.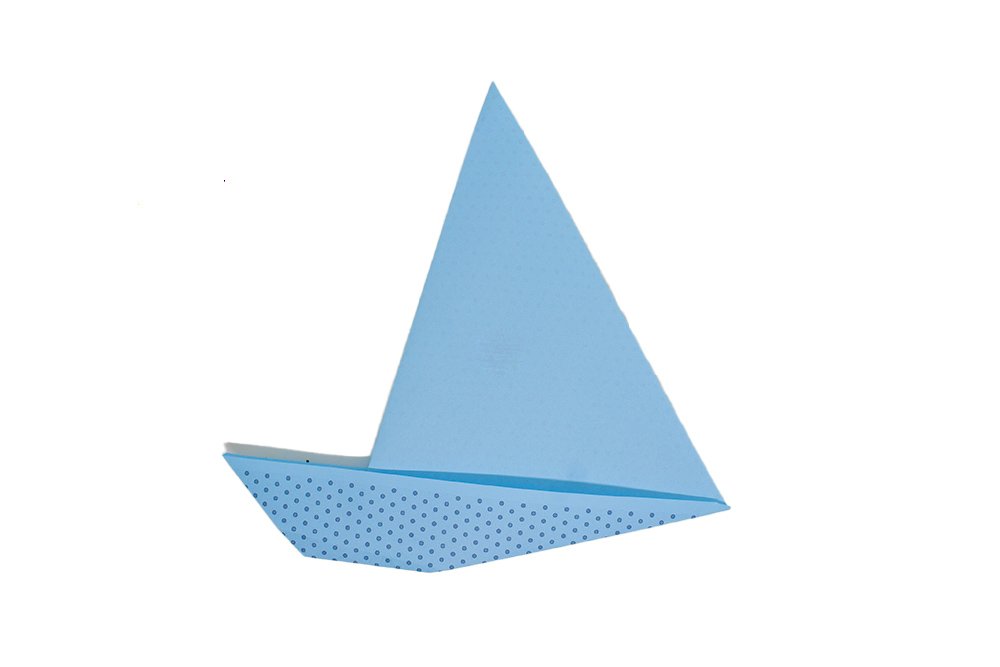 Your super simple origami yacht is done!
Extra Tips
Try making different kinds of origami boats. Decorate it after to make it look nicer if you want!
Sad to say, this origami boat tutorial cannot float. But, no problem! We have a sailboat instruction that you can make here if you want your paper boa to sail. Check out our other boat crafts here on the website!
Decorate the yacht however you like. What can you do to decorate the yacht's sail? Yachts come in all sort of designs. Personalize the origami boat using various coloring materials such as markers, paints, and crayons. You could also stick some stickers or paste some cutouts to make it extra fancy.
We have a lot of ways to make vehicles such as this yacht, from paper, napkins and to even dollars. Explore many ways to make various types of boat which can be found here!
Click to rate this article
Disclaimer
These free origami instructions are made available to you by the paper folding community at large. If you have a diagram you would like to share, or if your diagram is listed here and you wish to have it removed, please Contact Us. Diagrams are intended for personal use.
What paper to use?
The best paper you can use here is an origami paper which you can usually find in a craft store or the Japanese's specialty store. If you can't find one the no problem! You may use any paper like bond paper or construction paper and cut it into a square. Be resourceful! You may use old newspapers, gift wrappers, and magazine pages to make this origami. Not only are you being creative, but you are teaching kids to be sustainable!
Click to rate this article